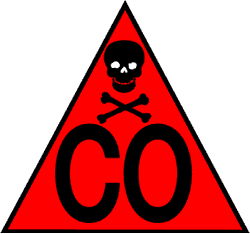 Using a portable gas camping heater inside a tent, RV, camper, vehicle, shelter or other enclosed area can produce carbon monoxide.
Carbon Monoxide (CO) poisoning produces flu-like symptoms, watery eyes, headaches, dizziness, fatigue and possibly death. You can't see it and you can't smell it. It's an invisible killer. Opening a window or tent flap does not always remove carbon monoxide, so please use portable gas heaters outside and never sleep with a heater "ON" inside any enclosure.
Actions to take if you or anyone you encounter while camping has been affected or overcome by carbon monoxide:
Get the victim to fresh air.
If the victim isn't breathing, give mouth-to-mouth resuscitation.
Get medical help, call the nearest emergency medical service, law enforcement official or ranger.
Transport the victim to a medical facility with a hyperbaric chamber.
For more information, visit:
Consumer Product Safety Commission- CO poisoning
For more information about safe camping, a "Camp Safe. Camp Smart." brochure is available from the Portable Propane Product Safety News Bureau, P.O. Box 45002, Cleveland, OH 44145, or call toll-free 1-888-CAMPHTR (226-7487).