1 lb. Propane Cylinder
Always store cylinders upright
Use soapy water to check for leaks
Never use or store a propane cylinder indoors
Do not try to repair a damaged cylinder – take it to a qualified propane supplier
4.25 lb. Propane Cylinder
Always store cylinders upright
Use soapy water to check for leaks
Never use or store a propane cylinder indoors
Do not try to repair a damaged cylinder – take it to a qualified propane supplier
11 lb. Propane Cylinder
Always store cylinders upright
Use soapy water to check for leaks
Never use or store a propane cylinder indoors
Do not try to repair a damaged cylinder – take it to a qualified propane supplier
20 lb. Propane Tank
Always store cylinder upright
Use soapy water to check for leaks
Never use or store a propane cylinder indoors
Do not try to repair a damaged cylinder – take it to a qualified propane supplier
Cylinder Safety Tips
Always store cylinders upright
Never use or store a propane cylinder indoors
Always Check For Leaks
Turn off all valves in the appliance.
Mix liquid soap or dish washing detergent with water.
Spread this mixture on all connections/hoses with a small brush.(CONNECTIONS MARKED IN BLUE)
Turn on the valve.
If bubbles form, you have a leak.
DO NOT try to repair a damaged cylinder!
Return a damaged cylinder to propane dealer or store.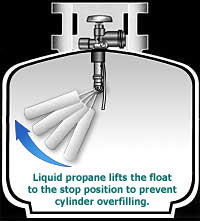 Overfill Prevention Device (OPD)
Available on some refillable cylinders. With an OPD, the cylinder cannot be filled beyond 80%. This allows the room necessary for the expansion of propane. The OPD requirement for all cylinders is in the process of being added to the gas grill standard.
For more information about safe camping, a "Camp Safe. Camp Smart." brochure is available from the Portable Propane Product Safety News Bureau, P.O. Box 45002, Cleveland, OH 44145, or call toll-free 1-888-CAMPHTR (226-7487).